DISCLAIMER
Our systems have detected that you are using a computer with an IP address located in the USA.
If you are currently not located in the USA, please click "Continue" in order to access our Website.
Local restrictions - provision of cross-border services
Swissquote Bank Ltd ("Swissquote") is a bank licensed in Switzerland under the supervision of the Swiss Financial Market Supervisory Authority (FINMA). Swissquote is not authorized as a bank or broker by any US authority (such as the CFTC or SEC) neither is it authorized to disseminate offering and solicitation materials for offshore sales of securities and investment services, to make financial promotion or conduct investment or banking activity in the USA whatsoever.

This website may however contain information about services and products that may be considered by US authorities as an invitation or inducement to engage in investment activity having an effect in the USA.

By clicking "Continue", you confirm that you have read and understood this legal information and that you access the website on your own initiative and without any solicitation from Swissquote.
Research
Market strategy
by Swissquote Analysts
Live Analysis
Hard-to-read messages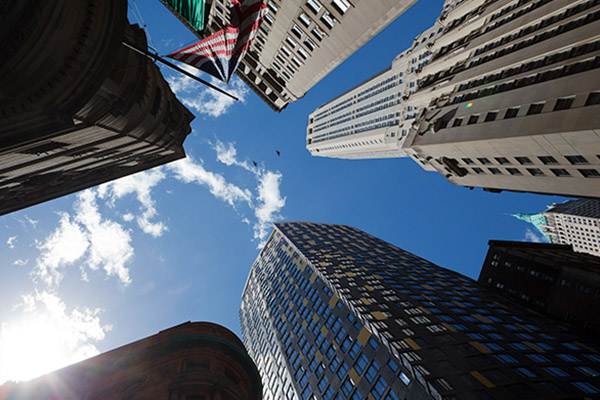 Hard-to-read messages
US equity markets have recovered strongly since their December lows, making our cautious outlook seem misplaced. However, while some factors have shifted, critical headwinds remain. The bullish rally has been propelled by strong drivers, so it is not surprising that signs of a late-stage cycle have balanced the risk highlighted by rising volatility. US stocks have quickly shifted from being overbought to oversold as investor concerns over a US recession, trade tensions and Fed monetary policy tightening have faded. Powell's pivot from tightening to a neutral/dovish stance has allowed stocks to pull back 50% of their previous losses. While investor sentiment has also recovered and sustained healthy US economic data is a plus, in our view this is more likely to be a correction of oversold positioning and a signal of stabilization rather than the start of an uptrend. Despite the positive surprise of a sharp rally, we are maintaining our neutral slightly defensive position, since there are key uncertainties that could quickly shift in either direction. Although volatility has declined from its 2018 spike, it still remains well above its ultra-tight 2017 levels. Investors should be prepared for a normalized level of volatility regardless of the direction taken by markets in 2019.
The biggest source of pure uncertainty affecting investors' calculations is the US-China trade dispute. Not only would increased tensions have profound global economic effects, the uncertainty has also been a source of significant risk premia. Continued chaotic messaging from the US and China has made attempting to predict the endgame a pointless exercise. Indeed, messaging has become so disjointed that differing reports of potential meetings between the two countries have triggered wild swings on intraday markets. We confess that we have no idea how President Trump or President Xi will proceed. But the direction of trade tensions will have a profound impact on how long we have before the next economic downturn begins.
Recent messaging from corporate earnings releases has provided a modicum of clarity. Companies have broadcast a similar message – that US-China trade tensions and Brexit are causing uncertainty and delaying critical business decisions. However, one interesting takeaway from corporate earnings releases is that investors have returned to focusing on earnings rather than messages. Companies that beat estimates have generally seen their stock prices improve. The renewed focus on real results is likely to develop into more realistic valuations. A healthy dose of skepticism had been followed by a decline in business confidence. December data indicated that 50% of CFOs believed the US economy would be in recession by the end of this year. In addition, it is not just business confidence that has fallen – consumer confidence is also sharply down. The average US consumer might not be watching economic developments, but he or she does see the chaos in domestic politics, culminating in the longest partial government shutdown in history. The Conference Board's consumer confidence indicators showed a fall in its "expectations" component without any real change in its "present situation" component. The spread between these two reads has contracted to a two-year low – something which, historically, has been a solid warning sign of recession. That said, all is not doom and gloom: labor markets, critical to overall confidence, remain extremely strong. The unemployment rate remains close to an all-time low and jobs growth is still strong. Finally, a strong bounce in mortgage applications suggests improvements in housing. Mixed messages from the US make forecasting extremely complicated, and investors should remain vigilant.
The largest swing factor has been the Fed's pivot. Comment following the January meeting of the Federal Open Market Committee (FOMC) indicated that rate hikes are no longer on autopilot. While the lack of a rate adjustment had already been priced into expectations, the accompanying statement from the FOMC had a more dovish skew. In addition, the smart money was watching the Fed's balance sheet, where there was also no advance signal of Fed Chair Jerome Powell's indicated ongoing runoff. Subsequent market reaction was positive. However, if the pause was correct, this means the US economy is slowing more sharply than expected, which might cause corporate earnings to falter further. Alternatively, if labor markets and wage growth continue to strengthen, the Fed will clearly be behind the curve. Elsewhere, the partial government shutdown wiped out a full quarter's worth of expected real GDP. The Congressional Budget Office (CBO) is predicting a negative impact of roughly 0.02% on full-year 2019 GDP. And the longer-term effects on confidence in the US government's ability to function properly, and questions over the strength of the country's democratic institutions, will linger among consumers and investors alike.
China has become a significant source of market uncertainty. China's official attempts to rebalance its economy have not paid off: consumers have not filled the void left by government spending and credit expansion. The slowdown in the world's second-largest economy has broad implications for global companies across all sectors. This latest round of corporate earnings releases has seen companies cite China as a key source of weakness in both earnings and outlook. The economic slowdown has been clearly apparent, with GDP growth at its slowest in 30 years (slower than in the 2008-9 global financial crisis, when a deep global recession hit). While 6.6% is not sustainable, investors are haunted by the question, "Are we at the bottom yet?". In the past, support for the economy has come in the form of infrastructure spending and loans to state-owned enterprises (SOEs). This time around, to try to build a backstop, Chinese policymakers have implemented broad policy measures to loosen credit and expand capital. The PBoC is expected to cut rates by 50 bps in 2019. China is also pursuing tax cuts in preference to its traditional approach of government infrastructure spending to stimulate demand. To offset the slowdown in government spending, there needs to be a boost to private investment and consumption. Unless this realignment of growth occurs, companies in China will see their global sales further eroded.

| | |
| --- | --- |
| Open | |
| Close | |
| High/Low | / |
| Volume | |
| Market | |
| Ask | |
| Bid | |